Because Crazy Happens: Asurion Sweepstakes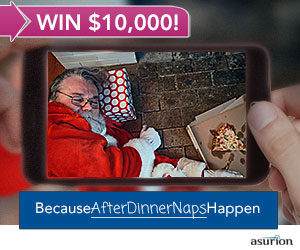 Let's see. I would like to buy a new TV, a lovely vacation, maybe a Fossil bag and some new technology as well. It's too bad that most of these things are way out of my price range right now. But when there's a will, there's a way, isn't there? This is especially true for us sweepers! With this upcoming Asurion Sweepstakes, I could purchase everything on my list and more! Read on and find out what the prize is for this fantastic new sweep.
This Asurion Sweepstakes Is giving away a whopping $10,000 to one lucky winner. That is an amazing prize! I know you all would want to win this one. It is a Facebook sweep and you must return and enter every day to heighten your chances of winning. It would be well worth all the effort to win a prize like that. You must be at least 18 years of age. You must also be a resident of the United States. Be sure to enter every day until November 30, 2013! That is when this amazing sweep will end. What is YOUR shopping list if you win $10,000? Let us know in the comments below. It's always fun to imagine.
Winner Winner Turkey Dinner
Sweepstakes Advantage member aljrdavis is getting into the holiday spirit with their awesome win. They received a $399 5 piece le Creuset cooking set from the olives from Spain instant win. This amazing winner says they will donate the prize to veterans in need. Way to go, aljrdavid! That is a beautiful use of a prize. Congratulations on your win.
Good luck to everyone entering this holiday season! Be sure to get your entries into the Asurion Sweepstakes. It is just too good to pass up. Have a great day and happy sweeping!