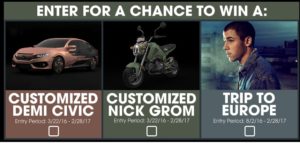 Winning a car or vehicle in a Car Sweepstakes is the crowning achievement for any sweepstakes enthusiast. It's amazing how many car sweepstakes there are actively available to enter. Whether you are looking for a ford, chevy, honda or some other model and manufacturer they are giving these vehicles away.
Car Sweepstakes You Can Enter to Win
One example is a current 2017 SearsShopYourWay Promotion. The Grand Prize Winner will receive the purchase of one (1) vehicle of Winner's choice that has a manufacturer's suggested retail price ("MSRP") up to thirty-seven thousand dollars ($37,000). A check in the amount of up to thirteen thousand dollars (13,000) will be made payable to the winner's order to help pay for applicable federal and state taxes, sales tax, tag, title, registration, license, insurance, and emissions (if applicable) fees. This is ("Tax Assistance") required to take possession of the vehicle at a dealer designated by Sponsor. The combined approximate retail value ("ARV") of the vehicle MSRP and Tax Assistance ("Grand Prize"): up to $50,000. You could buy just any dream car you wanted with a prize like this.
The Honda Civic Tour Car Sweepstakes is yet another example where you can Enter to win. Most noteworthy this Grand Prize 2016 Honda Civic Sedan EX-L vehicle customized by Demi Lovato. Along with payment to the dealership for costs associated with sales taxes, registration, tags, title, and other legally required fees. Manufacturer's Suggested Retail Price for the vehicle is $23,700. ARV with customization and design is $41,000.
Maybe just maybe you are looking for something a little different in your vehicle winning search. Another promotion by Old World Industries is giving away a 2017 Kawasaki MULE 4X4 XC CAMO vehicle with an (ARV of $9,049). This 4×4 vehicle will take you places you could never go with a car. These Utility Vehicles are pretty popular now because you can use them for yard work. You can also use these vehicles to explore trails in your state.
We are Always Listing More Car and Vehicle Giveaways
Come back to Sweepstakes Advantage regularly to see the latest car and vehicle sweepstakes available online. Furthermore, Since we love to hear when our members win cars or trucks because this is really the crowning achievement for any entering sweepstakes. Thanks for visiting us and reading about how to win a car.
Finally please take a moment and enter to Win a Gift card from Sweepstakes Advantage below.
Sweepstakes Advantage Jo-Anne Fabrics Gift Card Giveaway