Submit Sweepstakes with Sweepstakes Advantage will increase your sweepstakes promotion effectiveness. Giveaways and promotions are an excellent way to get exposure for your business and drive brand recognition. There's only one catch. People need to know about your contest. They need to find it, get excited about it, enter it and tell their friends about it for these contests to truly grow your brand's following. Your giveaway needs exposure. That's where Sweepstakes Advantage comes in. We list your promotion in our directory for a low monthly rate.
For just $10, you get one month's worth of access to our submit sweepstakes form. Be sure to select the appropriate form for your contest. For example, we have a submission form for Facebook only contests if you're giveaway is being hosted solely on that social media platform.
Consistent Traffic with Sweepstakes Advantage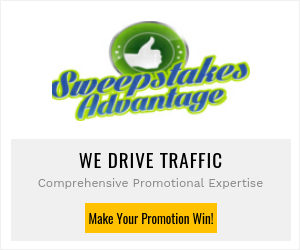 In addition to submitting your giveaway to our directory, we also offer click packages to drive consistent traffic to your site. Our promotional tools include High-Rank SEO enabled directory listings, a rotating banner, scheduled newsletter features to our 38K double opt-in subscribers, posts on our Twitter, Facebook and Google+ fan pages, and the chance to be featured in our in-house promotions. So we are much more than just submit sweepstakes. SA offers more sweepstakes promotion tools than any other giveaway directory.
Sweepstakes Advantage Click Packages vs. Google AdWords
Compare our click packages to Google AdWords for driving keyword traffic. Our click packages are more budget friendly. And unlike most cell phone plans that won't let you keep your unused minutes when you buy one of our click packages, all unused clicks are rolled over to future promotions. We offer click packages for every budget, but keep in mind that the larger the package you purchase, the lower the overall cost per click.
Many of our returning clients purchase 10K click packages knowing they will roll the unused clicks over to use in future promotions. The more clicks you purchase the lower the estimated costs per click you pay. Since unused clicks roll-over, Some clients will promote several separate giveaways with a single 10K click package. This is a huge value that will make your promotions budget stretch.
Flat Rates for Premium Clients and Large Contests
In addition to click packages, we also offer a monthly flat rate for premium clients who are offering very large giveaways – ones that are likely to attract many clicks. Contests for cars and exotic vacations are good candidates for our monthly flat rate plan. We have some big brand clients who choose to curb their potential click budget by opting in for the monthly flat rate product. If your promotion is likely to attract lots of clicks due to a large prize or brand notoriety, the flat rate product is for you.
Benefits of Running a Giveaway
Free stuff. You love getting something for nothing, right? Believe Your customers and potential customers do too. Giving away something exciting that people want helps you get noticed in a favorable way. As people get excited about your contest, they're also getting excited about your brand.
This brand recognition is key to growing a loyal customer base for your product. Loyal customers come back and spend more money with you – and they tell their friends. You want and need that word of mouth advertising to help your business grow.
Besides building an excited base of people who recognize and trust your brand, giveaways also give you the opportunity to grow your mailing list. People expect to enter their email address when they enter sweepstakes. You can include an opt-in feature on the entry form.
Many people will subscribe to email lists when they enter a contest. Once they're on your email list, you include them in your audience of people followers and loyal subscribers. Assuming you provide them with useful emails, they'll be more likely to convert from contest entrant to paying customer in your sweepstakes promotion.
Beyond Submit Sweepstakes to Increasing Social Presence
If you are looking to grow your social media presence you will probably want to consider a contesting app. Contesting apps help you easily implement a giveaway that will grow your social media presence, email list, video subscribers and more. There are quite a few companies that offer this service. Among those are Woobox and Gleam. Check them out for an easy way to implement your next giveaway without having to hire a developer.
We want to help you grow your business and your brand recognition. List your giveaways and contests with us to give them the boost they need to be seen by thousands of new, unique visitors.
Check out our traffic store for the full range of Sweepstakes Advantage sweepstakes promotion and sweepstakes submission promotional products.