Duck Dynasty Sweepstakes for Big Fans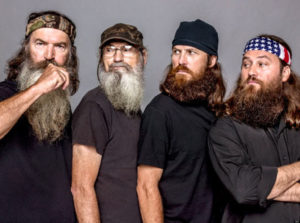 Duck Dynasty is one of the most popular shows on TV right now. It's crazy to imagine just how many people tune in for every episode. Well, you fans deserve to win an amazing Duck Dynasty Sweepstakes! The one I have today is sponsored by Peak and expires on November 18, 2013. As long as you are 18 years of age or older and a current resident of the US, you are open to enter! Show your support and enter this daily sweepstakes every day that you can. So, what will you have the chance of winning? Let me tell you about it.
The grand prize for this Duck Dynasty Sweepstakes is a 2014 Toyota Tundra Pickup truck and an on-site meet and greet visit for the grand prize winner and one guest to the set of Duck Dynasty! The set is located in West Monroe, Louisiana so it's going to be a pretty cool trip! The first prize is a Kawasaki TERYX4 Side-by-side 750 4×4 EPS Camo vehicle. Wow! It sounds like the grand and first prize winners of this Duck Dynasty sweepstakes are gonna be having some major fun! Enter now and win, before it's too late. Don't forget to enter daily!
Two Grand Prizes!?
Sweepstakes plus member shirleyjean3 is super excited to announce that they are the  grand prize winner of the Firestone Destination Turbo Sweepstakes! This lucky winner will be taking a trip on the Dreamworks Royal Caribbean Cruise ship with 3 guests. This super sweeper ALSO was notified that they were one on the grand prize winners for the Budweiser& Bud Lite Road to FIFA World Cup, and chose to receive the cash option instead of the trip. That is so fantastic, shirleyjean3! We are all so excited for you and your wins.
Good luck to everyone entering this week, don't forget the Duck Dynasty Sweepstakes!