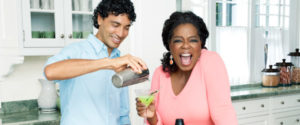 Oprah Sweepstakes for a New Kitchen
Everyone has heard of Oprah, of course! She's one of the most successful women of our time and a national icon. Well, guess what? Check under your seat, because you could be receiving a Platinum kitchen makeover with this Oprah sweepstakes! One lucky grand prize winner will receive $3,705 worth of Kitchen tools and decorations! If I've sparked your interest, keep reading to find out more about this Oprah Sweepstakes.
The grand prize of this sweep includes a whirlpool dishwasher, a kitchen aid mixer, place settings for 8, a vitamix classic series juicer and a blender! That sounds great, doesn't it? But that's not all! The winner will also receive new table linens, a Keurig platinum coffee maker, $500 worth of kitchen décor, and a Harry and David Steak & Lobster Feast delivery to your home! Last, but not least, a floral boquet will be sent to the house in a glass vase for the table. Isn't that just the icing on the cake? This great Oprah Sweepstakes will get you all this and have you cooking in no time!
This one-entry sweepstakes expires on October 15, 2013. To enter you must be at least 18 years of age and a resident of the United States. Go ahead and enter it before you forget.  This awesome Oprah Sweepstakes is too fabulous to pass up. Everyone's kitchen could use a little refresher. It could inspire you to create a delicious brand new dish. Ooh la la, bon apetite!
Winning all around
Sweepstakes Plus member hukimama has won their biggest prize yet! As a selected winner of the Slim Fast Sweepstakes, hukimama will receive a $1000 check for a makeover and haircut package. Wow! That is a super fun win. It sounds like somebody will be having an ultimate spa day! Congratulations to you, we hope you have tons of fun with your win.
Good luck to everyone in the spooky month of October! Keep any eye open for good sweeps and don't pass up on the Oprah Sweepstakes!