Text Entry Sweepstakes are Here
It's funny that not many people know about text entry sweepstakes. They have become so popular now that many promotions offer it as an alternative to online entry. You'll be surprised how many people do not own a computer but do have a web and text capable cell phone. These same people would never dream that they can enter online sweepstakes with their little cell phone. The truth is, not much is needed to enter cell phone or text entry sweepstakes.
The Text Entry Basics
There are some common words that you will need to know about before you try to enter these cell type sweeps. The first is called the "keyword".  Whenever you see this mentioned for a text entry sweepstakes all that this means is when you send a text this is the word that will be typed into the message field on your phone. The same place where you would type "need milk" when texting your loved one on the way home from work. The second term is called the "short code".  A short code is a 5- or 6-digit number that can send and receive SMS messages to and from mobile phones.
So think of a short code as being the same as a phone number. It's just an abbreviated number that all cell phone carriers can understand as a recipient or sender.  These 2 common terms are all you really need to know for entering cell phone or text entry sweepstakes. Text to win competitions have been very popular for both Television and Radio stations. I'm sure you have heard the radio announcer instruct listeners to text a certain phrase of the day to win a prize.
The simple steps for submitting a Text Entry
Navigate to the Text Message Area of Your Cell Phone.
Create a New Text Message.
Enter your Keyword in the Message Area.
Send the Keyword Text to the Short code Number ( the short code goes into the place where you would normally type a phone number )
Click "Send".
After following these steps correctly you will normally get some type of response. For example, you may get a response asking to confirm your age. Be sure to type your reply in the same format illustrated in the reply text. Failure to use the correct format will sometimes issue another text reply message asking to try again. Other times you may get an immediate response notifying you if you are an instant winner. These responses differ from promotion to promotion but usually, the official promotion rules will state what you can expect.
Text Entry Example Photo Tutorial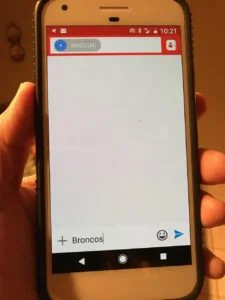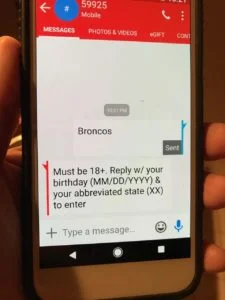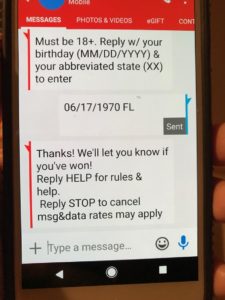 Sometimes you might expect to get a text advertisement from the sponsor in exchange for your entry. Texting a keyword "STOP" reply to the same short code will remove you. You can also try texting "HELP" to the short code to see if there is some other keyword to use for removal. Most times the official rules will state what you need to do to be removed from the promotional text messages. From Coca Cola to your local Radio Station, text entry sweepstakes have become an important part of mobile connected marketing for companies.
How Do I Get Access to Text Entry Sweepstakes?
You can find text entry sweepstakes just about anywhere. You can usually se advertisements in local businesses. When you see one advertised, don't wait. Pop open your cell phone and enter it right there. You can also hear them on your local radio station. These are often referred to as the "phrase of the day". If you are looking for a major list of text entry sweepstakes I urge you to subscribe to Sweepstakes Plus, www.sweepstakesplus.com.
Did I mention that some text entry sweepstakes allow daily entry? What makes this crazy easy is that most cell phones keep a history of your most recent text message conversations. Just pull up that history and redo the texting entry sequence. Seems like Many cell phones will actually help you complete certain text words like your date of birth just by starting to type the word and then select the whole phrase from the suggested auto text. Now maybe you can see why text entry sweepstakes are soo popular!