Wrangler Jeans Sweepstakes Have Got Us Hooked
Wrangler Jeans have been around since 1947. Their history runs parallel with that of our country and their jeans were worn by the same people who built this. This particular brand is dedicated to great quality and good, old fashioned, American culture. Wrangler clothes are for the working man and woman, but who says that they can't look good? These affordable, well-constructed, and stylish clothes could be yours!  By entering the Wrangler Jeans sweepstakes I have for you today, you could win yourself a years' worth of work clothes or maybe even the chance to meet famous stock car racer Dale Earnhardt. Find out how!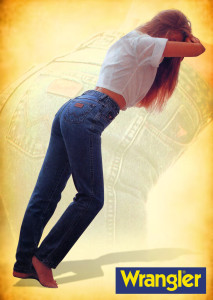 First off, we have the 'Win a Year's Worth of Riggs Workwear Sweepstakes. You could win $400 worth of Riggs workwear apparel, consisting of seven pairs of Riggs jeans and eleven Riggs shirts. All entrants over the age of 21 are eligible to win. You also must be a resident of the US or Canada. This sweep expires on the last day of the year, December 31, 2013. So you still have quite a while to enter the wrangler jeans sweepstakes.
Wrangler is also hosting another very similar sweepstakes. This one is the 'Years' Worth of Wrangler Jeans and Shirts Sweepstakes.' This prize has Wrangler products instead of Riggs, like the last sweep. With this sweep, you could win $480 worth of wrangler western apparel consisting of six jeans and ten shirts. Sounds like a great new wardrobe to me! United States and Canada residents are free to enter, as this great sweep ends a little later than the last one. Well, almost a whole year later! July, 31, 2014 is the expiring date for this amazing wrangler jeans sweepstakes so remember that date!
The 'Take a Test Drive with Dale Jr. Sweepstakes' will have you racing into the North Carolina sunset! You and one guest will be flown to North Carolina for 4 days and 3 nights to go to the Nationwide and Spring cup professional stock car races on October 11 and 12. You'll be able to go on a VIP tour of the facilities and meet Dale Earnhardt! Pair this up with a lovely gift bag and a $250 Wrangler gift card and it sounds like the perfect win! If you're over 18 and a US citizen, enter now! This awesome wrangler jeans sweepstakes ends on September 17, 2013.
Win me Somethin' Good
Today we have one very special grand prize winner from Sweepstakes Advantage. Senior member drgnldy812 won  the Perfect Night Sweepstakes and will be receiving an 'Outdoor Movie Package' that includes an outdoor portable movie screen, a projector, a fire pit, a table, an outdoor chair with cushions, 2 lanterns, a stove top popcorn popper, A pizza peel, A pizza cutter, an outdoor bug zapper and 3 free months of Netflix. This awesome prize totals to a whopping $1,503! That is HUGE! Congrats to this very lucky winner! Maybe we could have some of your luck this week.
Good luck to everyone entering the Wrangler sweeps. Have fun and Happy Sweeping!