Country Living Sweepstakes
Are you ready to win big from Country Living sweepstakes? SA members are brought closer to living a better life when they win big from their favorite magazine.
Make sure to check out the latest sweepstakes from the SA Directory! Good luck!
Best Prizes from Country Living Sweepstakes
Fantastic prizes and opportunities will be given away through Country Living sweepstakes this month. Check out what they offer and make sure you get your entries in to be qualified and chosen as winners.
CountryLiving.Com's "Holiday to Remember Sweepstakes" will expire by January 2014 and is under the Daily Sweepstakes category. This sweepstakes will give out $25,000 to the lucky winner.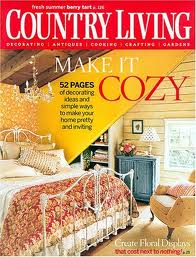 For Go RVing and Country Living's  "Away Your Way Sweepstakes" is a One Entry sweepstakes that will end on the 10th of June with a limit of one per household.  The total win for this sweepstakes will amount to $1,072 and includes great prizes like a Garmin Nuvi 2350 LMT GPS worth $230, a Canon PowerShot SX500 IS valued at $330, a one-year subscription to Country Living Magazine that is valued at about $12, plus a $500 Amex Gift Card.
Next big prize would be from their "Angela Adams Rug Sweepstakes" as the lucky winner will get to have an Angela Adams Birds of Paradise Morning wool rug worth $750, which household wouldn't want that? Make sure you get an entry for your home and remember that the sweepstakes will last on the 21st of May.
Country Living Sweepstakes and Other Contests to Consider
There are other sweepstakes from Country Living for some prizes to spruce up your home. Join the following sweepstakes under the One Entry category which will end on the 21st of May. They have the "Watering Can Sweepstakes" for one lucky winner of an X3 watering can from Kontexture worth $196. Another is the "Little Bird Cake Stand Sweepstakes" for a little bird platter from Pier 1 valued at $149. Their "Paper Clip Holder Sweepstakes" will get you a $96 value of a desk egg paper clip holder with gold paper clips by Fred and Friends, while the "Vintage Luncheon Napkins Sweepstakes" will be giving away a roll of MyDrap reusable vintage premium luncheon napkins in indigo, burgundy, or green for a value of $81.
Another to enter is the "Riddler Wine Holder Sweepstakes" and as a possible winner you will be getting a Riddler wine rack from Z Gallerie worth $49.95. They also have the "Horseshoe Candelabra Sweepstakes" wherein if you are the winner, you will be able to take home horseshoe candelabra from The HomePort Collections worth $35. A set of five pattern click pens by Poketo worth $22.50 will be up for grabs in their "Patterned Pen Set Sweepstakes", while the "Scented Clothespins Sweepstakes" is the one you should enter if you need five sets of scented clothespins, that has 8 in each set, valued at $12.
A few more sweepstakes they have are considered Daily sweepstakes and have some laundry detergent to be given away to make things a little more practical. These will all end on the 30th of April and can be entered once per day. Here are the sweepstakes you can choose from which will get you a variety of Roux Maison detergents: "Roux Maison Essential Detergent Sweet Tea Sweepstakes", "Roux Maison Essential Detergent Fragrance-Free Sweepstakes", and the "Roux Maison Essential Detergent Ambrosia Sweepstakes".
Wins That Make Sweeping Worthwhile
Shanna364, a Sweepstakes Plus Member, just won from Fodor's Expat Sweepstakes which is a trip to Amsterdam for two. This is the second time our SA member won a trip because right now she is preparing for the trip to Portugal Wine Country won a few weeks ago.
Senior member, Tigerkitty, was named the grand prize winner from the "Win Your Kid's Dream Craft Room" Sweepstakes from Kiwi Crate. Tigerkitty is now a happy owner of this awesome prize pack that includes one of every craft material from their DIY Materials Shop (Shop | Kids Crafts & Activities for Children | Kiwi Crate), and a craft table from Pottery Barn Kids, all bundled with a price tag of $750.
Meanwhile, Isi17, joined the "Morningstar Meatless Monday" promotion and won a Portable Folding Picnic Table with Seats worth $107.60 and another big win which was from "LG Do March Right" sweepstakes that gave our SA member an LG Optimus G phone worth $550.
Other winners were Mperkins37 who won from the "January Sig Sauer Giveaway" and won a Sig Sauer P-224 .40 S&W pistol, Jnrrll427 who will receive an 8 piece Calphalon Tri-Ply SS Cookware Set plus an 18 piece Knife Set from the BIC "Unleash Your Tough" Sweepstakes on Facebook. Ctdorsey, on the other hand joined HBO's Game of Thrones Hand of the King Sweepstakes and Instant Win Game and won a $125 American Express Gift Card.
Congratulations to everyone who joined sweepstakes and we wish you more wins before April ends.