Keeping the Faith with Sweepstakes
When joining sweepstakes, it is often more than just luck; it is faith.
Believing in Sweepstakes, Believing in Wins
Meansweeps is thrilled to have won form the Super Bowl contest on Facebook to get a television from American TV. Jam62, on the other hand, won from the Roadtrips sweepstakes an iPad Mini, also through Facebook.
Other good wins are of course, gift cards! Melmox joined the Win Her Over Sweepstakes by From You Flowers and won third place to get a $100 Valentine's Day Bundle, the first since the start of sweeping in four months.
Noellesms received a surprise win of $100 worth of skin products from VIV Mag, while Venusway garnered several wins to start this month with a set of mugs from Nescafe, a win from BelVita, Papa John's, Twix and Purina, a $10 credit from Quaker, a SanDisk figurine, a Sterling silver cluster shell pearl earrings from Overstock, and a Druzy heart pendant necklace from a Facebook sweepstakes.
Rockin7e received a few wins too like a 2-year subscription to Health Magazine from Quaker, a 4 oz. Bottle of Biotrue and a package of Shout Color Catcher sheet from Laundry Made Easier IW sweepstakes.
Noteworthy Sweepstakes to Enter
If you would like a chance to own something new and fancy watch out for these sweepstakes and join them while they last. A one entry sweepstakes is the Chrysler – Commercial Vehicles Work Like a Pro Contest wherein the grand prize is a 2014 Ram ProMaster vehicle worth around $37,000 plus a $5,000 check, a $500 Visa Prepaid Card and $99 worth of branded merchandise from a designated sponsor, totaling to around $42,000. Make sure you take note of the restrictions and the date the sweepstakes ends.
Next to check out is from the monthly sweepstakes category, wherein the Monster Fish Sweepstakes by BassPro will be giving the grand prize winner a 2013 NITRO Z-6 w/115 hp OptiMax and trailer valued worth around $22,499 and includes freight and preparation.
Other great opportunities for prizes are just like the one entry sweepstakes categories Filtrete – Healthy Home Remodel Contest that entitles the grand prize winner to a $30,000 worth of home repairs/renovations/inspection and the first placers will be getting $5,000 worth. The Grab Green Sweepstakes by LuckyDiem, Inc. will be giving away a $3,000 gift card to the grand prize winner, while a $2,500 Nordstrom Gift Card is up for grabs with the Shopping Spree Sweepstakes via Sugar Inc.
Meanwhile, Pazsaz' iMac 27-inch 2.9GHz Computer Giveaway is supplying the winner with an iMac 27-inch 2.9GHz Computer which comes with a Wireless Keyboard, Magic Mouse, and Power Cord, all worth $1,799. The Lenovo Yoga Touchscreen Ultrabook Giveaway by FrysElectronics on Facebook is set to give away a Lenovo Yoga 13 Touchscreen Ultrabook worth $1,498.
Vacation Opportunities if you Win a Dream Vacation Sweepstakes
If you are interested in going on trips and relaxing with free vacations, take note of these dream vacation sweepstakes you need to join.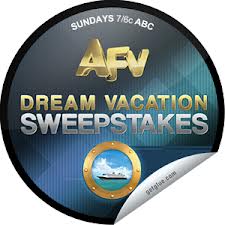 Here are some One Entry sweepstakes you can enter: the Bucket List Sweepstakes by TaylorMadeGolf for a chance to win 3 rounds of 18 holes of golf for two at an elite U.S. golf course together with 2-night accommodations, airfare, and some sponsored products for a total of $5,000. Another you can consider joining is the Pebble Beach Food & Wine Sweepstakes of Flemings Steakhouse for airfare to Monterey Peninsula Airport and accommodations at Monterey Plaza Hotel with a $500 AMEX Card that comes with the Opening Night Reception Daily Wine Seminars, Cooking Demonstrations Thematic Lunch, and a Lexus Grand Tasting VIP Early Access totaled at $5,000.
A luxurious vacation is up for grabs with BridalGuide's Gift Registry Survey Sweepstakes. Enter this sweepstakes and hopefully be the lucky one to win a 6-night stay for two in a Signature Casita Room that also comes with the Appetite for Luxury meal plan for breakfast, lunch and dinner daily, also a couple's massage, and a private boat tour worth $4,600.
If you want to do a minute-long video with you ripping the backcountry or side country, upload it afterward and get a chance to win $5,000 to be used to a trip to Flow Tailgate Alaska in SnowBoardMag.Com's Ticket To Tailgate Contest. But the Build Your Snowboard Contest Pinterest by Luxury Link is giving the grand prize winner accommodations at Hotel Jerome in Aspen, Colorado with breakfast and access to the hotel amenities and more, to total $3,477.
The next are Facebook sweepstakes you can join, especially since most really stay online and browse stuff on the said social networking site. TeamJOOSE's Panama Beach Escape Online Sweepstakes will take the grand prize winner to Panama City Beach, Florida that includes airfare and 5-night accommodations for 3, all worth $4,500.  SwatchUS – Freeride World Tour Kirkwood 2013 by The North Face Sweepstakes is giving the grand prize winner a $3,771.50 value to a "Swatch Freeride World Tour VIP Experience" with VIP Passes to the Freeride World Tour Event in Kirkwood, California, plus airfare, accommodations, and more!
You can also check out ABC/Disney's AFV Dream Vacation Sweepstakes, and either choose from a 7-Night Eastern or a Western Caribbean Disney Cruise Line Vacation for four on the Disney Fantasy from Port Canaveral, Florida.