Your Favorite Contests Won't Let you Down
Some of us are very lucky that we take home the prizes we have been hoping for in weeks. We enter sweepstakes and online contests with the hope of bagging that wonderful trip giveaway, or that huge amount of money, and sometimes that beautiful sports car at stake. Sometimes we get it, but most of the time, we have to wait. Nevertheless, it is the fun in joining these games that really make more and more satisfied even with just having to play for an instant game.
Congratulations to these lucky people who have taken the world of sweeps by storm this week. Great job!
H&R Block Sweepstakes, Trips, Loads of Cash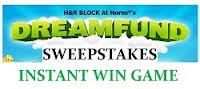 Joining the DreamFund H&R Block Sweepstakes turned out to be one of the greatest experiences in the life of our SA member, Izzynsethsmom, because she won their grand prize of a massive $20,000! Izzynsethsmom is really thrilled and still shocked with the win knowing not everyone can get this lucky. She feels blessed and thankful for everyone and everything that made this sweepstakes possible. She's a new member Also, it has only been 3 months since our SA member started sweeping and this win is just terrific!
Meanwhile, Flowersfromtheheart just won the Post Cereal Bowl Trip win for four which includes roundtrip tickets to Orlando, FL, hotel accommodations at the Coronado Springs Resort in Disney World, a Post Pep Rally (welcome dinner), access to the Post Cereal Bowl event at the ESPN Wide World of Sports Center plus a meet and greet with Tony Dorsett and Ndamukong Suh, a gift card for dinner, and a private finale fireworks Dessert Reception at Epcot, which her family will really love!
Copwife18 on the other hand won a trip to Hawaii from USA Weekend's Outrigger Reef on the Beach sweepstakes for airfare to Waikiki, accommodations for 5 nights, and some added activities to enjoy. Our SA member will bring her husband along for their anniversary.
Allysonblake is another big winner and is receiving the $5,000 win from the Erie Ins FB contest. Our winner was a bit worried for not hearing from the company sooner but finally heard from them and was very excited to finally receive the win. This will be a whole lot of help for our winner as well as another win from the Burberry Style Scents Instagram Contest won a few months before, which was a Burberry Body gift basket plus a $150 Burberry GC.
Contests Bring you Money Giveaways
H&R Block Sweepstakes had a big winner from SA! Read on for more on that. Here are a few money wins like Zeldamae who was delivered a $500 Joseph A Banks GC and a Bottles Up glass water bottle. Our SA member also says for new sweepers to hang in there and wait for their time to win. Selinda was a potential winner from Woman's World an "Iron Rich" prize pack from Feosol and if our SA member is eligible she will be able to get several stuff to help manage iron deficiency through Feosol Natural Release and some new cookware to prepare a meal with the $500 Amex gift card coming from them.
Hundred dollar GC's were received by Sandidoyle, Thumbelina, Side58, and Bwanas. Sandidoyle won the GC from Western Union, while Thumbelina and Bwanas won from the Pepsi NFL Gear Sweepstakes, and finally, Side58 won from the Martha Stewart Facebook sweepstakes a $100 JCP gift card also a pair of Oakley sunglasses, a soda stream soda maker from another sweepstakes, then also some vitamins, all in one day.
Gadget Blow Outs and More Courtesy of Online Contests
Kcoomey won a 32" LG HDTV (SKU 847574) from the Big, Bigger, Biggest Ever LG HDTV Sweepstakes joined plus a $50 Micro Center GC from Micro Center to enjoy this first month of the year.
Gaming will always be a thrill especially if you got your device from hard work but still for free through sweepstakes. Hgach and Just4karen were proud and happy winners from Twix as Hgach got an Xbox bundle while Just4karen shared an Xbox with Kinect, plus a yummy candy bar. Just4karen is very lucky because although she has been aiming to win an iPad, she has already won an Xbox 4 times! Meanwhile, Johnnyz just won an Android gaming device from a blog giveaway that is worth around $150 plus the Up a Tree with Chicken Soup book.
Other electronic wins are Etheldaylily who won an Omron heart monitor that will greatly help with our SA member's heart condition. Sherabbit36, on the other hand is completely thrilled to win P5 headphones, and Usnsjf was one of the winners in the Wireless Emporium 12 days of Christmas sweepstakes that entitles our SA member to get one of these awesome prizes but still unknown which to receive: a Google Nexus 7 tablet, a Nintendo 3DS, or an Apple iPod Touch, Sol headphones, Nintendo Wii, a Kindle, Zoro headphones, a TruSound Bluetooth speaker, a Qmadix speaker set, Urbanista headphones, a Samsung Galaxy S3 battery pack, or a BlueAnt Bluetooth speakerphone, but whatever it is will be good enough!