Looking Good with Humana Sweepstakes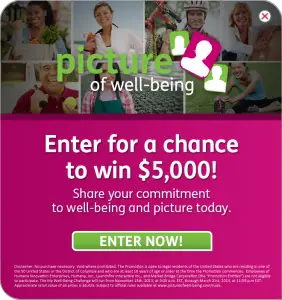 There is a great instant win 'Picture of Well-Being' Humana Sweepstakes happening right now that we think that you all will enjoy. If you are interested in winning a large sum of cash or some great daily prizes, this is the sweep for you. Read on and find out just what kind of awesome prizes you could win.
The grand prize winner of this Humana Sweepstakes will be receiving $5,000 in AMEX gift cards. Wow! That is a great cash prize. This of all the things you could buy or pay off with an extra $5,000! If you haven't won the grand prize, don't despair, you still have a shot at winning one of the cool daily prizes. The daily prizes are smaller AMEX gift cards worth anywhere from $50 to $10.  SO keep sweeping and see what you can win! This sweep is for residents of the United States who are 18 years of age and older. This great Humana Sweepstakes opportunity expires on March 21, 2014, so you have a lot of time to get your daily entries in and win cool AMEX prizes!
Holiday Prize Fun!
Sweepstakes Advantage member rockin7e was chosen as the third prize winner in the Family Holiday Giveaway. This winner received a Fandango code redeemable for two free movie tickets to Disney's "Frozen"! Congratulations on that fun win; we hope you have a great night out at the theatre. Another member, stella807 won the 'Start School Smarter Sweepstakes' and was the winner of a Google Nexxus 7 Mini Tablet. This super sweeper admits that this win mad her upgrade to Sweepstakes Plus totally worth the investment. Congratulations to you, and keep winning!
Good luck to everyone in the Sweepstakes world. Remember to enter the Humana Sweepstakes for the chance to win $5,000!