Do you want to win the GSN $25,000 Summer Sweepstakes?
Today I bring to you a special sweep for those of us looking for a little extra cash this summer: The GSN $25,000 Summer Sweepstakes. How does that sound to you? GSN is giving away pieces of $25,000 to many winners this summer. If you'd like to win a chunk of that (which I'm sure you do,) stick around and find out how.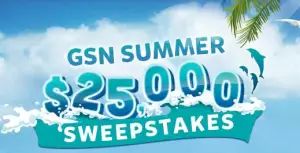 If you are 18 or over and a legal resident of the United States, the District of Columbia, Puerto Rico or Canada (excluding Quebec) then you are ready to enter! The sweep ends on August 31, 2013, so you have nearly a month to get your entries in. It's free to enter, so check it out. GSN is the Game Show Network. It is a multimedia entertainment company that offers original and classic game programming. GSN's online casual games and it's cash tournaments make it a big hit with the sweepstakes community. By joining the GSN $25,000 Summer Sweepstakes and taking advantage of their many cash prize games, you could be winning big cash AND having fun doing it.
Banana Boat Smooth Sailing!
Well, this SA junior member sure is in good spirits today, and she has every right to be! Karynsart won the grand prize for the Banana Boat Unconditional Fun Sweepstakes. That means that the lucky winner will get a family trip for 4 to Great Wolf Lodge Resort (A trip worth $5,500!). This sweeper and her children could not be any more excited. She says to never give up on sweeps, which we all believe is pretty great advice. You never know when you could win it big! Congratulations to karynsart and we hope your family has an amazing time on the trip.
Another SA member is happy to announce a win from the Banana Boat Unconditional Fun Sweepstakes! Jessica1627 got her biggest prize to date! Her prize was a 15-foot trampoline and enclosure set worth $379! That sounds like bundles of fun. This happy sweeper says she can't wait to move out of her apartment and into a duplex or house to set up the trampoline and use it! I know you'll have a lot of fun. Congratulations!
Good luck to all entering sweeps today. Keep your eye on that GSN $25,000 Summer Sweepstakes!