Tilly's Sweepstakes
Tilly's has been a name related to clothing, shoes, and other accessories. Now, here's an additional something we can take a look at another thing we could associate it to, sweepstakes! The Sweepstakes Advantage directory has great new online sweepstakes for you to join, including some of the coolest Tilly's Sweepstakes in the country today.
Don't forget to join. Good luck and have fun!
Tilly's Sweepstakes Bring Great Gifts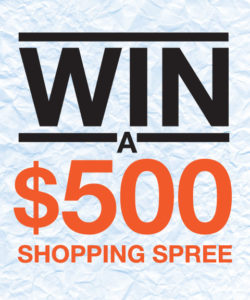 Want a big shopping spree? Join Tilly's "LRG Shopping Spree Sweepstake" for a chance to be the sole grand prize winner of a $4,700.00 LRG shopping spree. This sweepstakes will last until the 1st of April and limited to one entry per person.
If you need a break or just want to get away, here are a few of the sweepstakes you could consider joining. Tillys.Com's "BLVD Win A Trip To The Trees Sweepstakes" has just started and will give you until the 6th of May to get your entries in. this is in the One Entry category so make sure you submit your entry before it ends. The grand prize is valued up to $4,875 and the chosen winner will get a VIP experience to Jamaica that includes airfare for two, hotel accommodations for four nights, and a prize pack from BLVD Supply Company.
Another chance for winning a trip is joining Tilly's "RVCA Win A Trip To CA Sweepstakes" wherein a VIP experience at the RVCA headquarters in Costa Mesa, CA is up for grabs, which also includes roundtrip airfare for two, a one night hotel accommodation, and a prize pack from RVCA, totaling $3,500. Get to it as this sweepstakes only lasts a few more days and will expire on the 1st of April. This again, is also in the One Entry Category sweepstakes.
There are other sweepstakes for other wins like their "Vans Warped Tour 2013 Sweepstakes" wherein the grand prize winner will get a chance to a meet and greet with the band of their choice at the event, Vans Warped Tour, a chance to watch the show from side stage, attend an invitation-only Vans Warped Tour band BBQ, plus a $500 Tilly's GC and an outfit from Vans, all worth $1,500. Other winners will get tickets to the show of their choice at the Event and a Vans prize pack. There will also be 5 winners to get a pair of Vans shoes worth $60. This tilly's sweepstakes will end on April 6th and is a One Entry sweepstakes.
Finally, Tilly's "The #TILLYSPICTURETHIS Instagram Contest" is also from the One Entry Category and will end on the 1st of April. The mechanics are to take a photo of yourself in front of the #TILLYSPICTURETHIS mirror display  in Tilly's retail stores and post it on Instagram with a tag "#TILLYSPICTURETHIS". This will then be your entry to win a $1,000 Shopping Spree at Tilly's.
Tilly's Sweepstakes and a Lucky Winner from a Contest
Champagne has just shared her winning experience, not from a sweepstake though. She joined a local radio station contest to win tickets to the Dave Mathews Band with a chance of getting the grand prize, which is a trip to Hawaii for two, if you win. Fortunate was our SA member to have won the tickets and naturally, there was a chance of winning the grand prize. A few days after, she thought the chance of winning was over, until she received a call from CBS radio and told her she won the grand prize. It was really great because her husband really wanted the win because he has never been to Hawaii. Though this is not a win from a sweepstakes, it is a great experience Champagne just wanted to share with her fellow SA members.
It's Great to be an SA Member with Tilly's Sweepstakes and More
Isi17 entered the "Verragio Sweepstakes" and was chosen as the winner on their fourth week to get a $1,000 coupon for a Verragio Engagement Ring.
Meanwhile, senior member, Openmind101, is ecstatic with her recent wins especially since it was her birthday a few days ago. The wins she got were books, a chance to see a movie, an iPod Shuffle, then her big win, an amethyst ring from the Sears Shop Your Way sweepstakes worth $999.99, her biggest win up to date.
Other winners were Junior Members, Tiffinfla, 570strohl, and Alysakili. Tiffinfla won from the Pottery Barn Kids FAN-tastic Easter giveaway on Facebook, the grand prize wherein our SA member won a $500 gift card to pottery Barn Kids/Pottery Barn. 570strohl on the other hand won from Maine Source, which was a $100.00 Visa card, while Alysakili won a toaster and a case of yummy Bay's English Muffins. Another winner, senior member, Allwedoiswin got an iPod Nano from the BIC Instant Win sweepstakes.