Tips for Finding Low-Entry Sweepstakes
Learn how to find low-entry sweepstakes to increase your chance of winning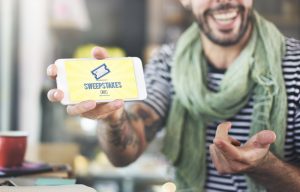 Why do you need to learn how to find sweepstakes with few entries?
Because if there are few entries…it means your chances of winning are much greater.
And whether it's a million-dollar jackpot or free concert tickets, everyone likes to win!
It's easy to find all kinds of online contests and sweepstakes simply by typing a search term into Google.
But are all of them safe?
And how can you really tell if they're low-entry?
Here is the Sweepstakes Advantage guide on how to find low-entry sweepstakes.
How to Find Low-Entry Sweepstakes and Know They Are Low-Entry
So let's say you use all these great resources to help you track all the low-entry sweepstakes that may exist out there.
How can you actually tell whether or not a contest is low-entry?
After all, it's not worth your time if there are so many entries that it reduces your chance of winning.
Neither do you want to spend a lot of your time combing through the descriptions of sweepstakes to try to figure out which ones are worthwhile and which ones are not.
Here are some easy ways to tell how "low-entry" a sweepstake really is.
Likes, comments, shares and retweets
Likes and comments are a sure sign of the popularity of a contest. If many people have "liked" the contest, it's likely they have entered it, too. In addition, "likes" and "comments" can cause a sweepstakes announcement to move higher up in the newsfeed so that more people are likely to see it and know about it.
Shares and retweets expand the audience of the contest. If just one person shares it, this means that all his/her friends and followers now have access to the contest, too. And a greater audience means more entries.
The length of time the contest has been running
Any sweepstakes is low-entry if it has just recently been announced. But time will tell how many will in fact enter.
Wait until the contest is drawing to an end before checking the number of entries. Particularly when it's about to expire, you will have a much clearer picture of how low-entry a sweepstake is.
Tracking widgets
Some apps (like Gleam) have a widget which displays the number of entries for each contest. Be sure to compare this number with the total number of entrants to get a realistic picture. Some contests allow multiple entries for each individual.
The value of the prize
Prize value impacts how "low-entry" a contest is.
For example, most people would consider that 600 entries is a lot. But for a really big prize, like an all-expense-paid trip to the Bahamas or a fancy car, this number of entries isn't much. However, if the prize is something smaller, like a gift card to a local restaurant, even 20 entries may be considered a high number.
Of course, if multiple prizes are offered in the same contest, this also can dramatically alter the odds of winning.
If a new Smartphone is offered as the sole prize, 100-200 entries are a very high number. But if several other prizes are offered (an iTunes card, earbuds, wireless speakers, etc.), it can be considered low-entry.
Why enter low-entry sweepstakes?
While it may take patience and persistence, there is nothing quite like the feeling of winning something that you really want. Even a minor win, like a pair of earrings or a small cash prize, makes life just a little easier and more enjoyable.
But entering sweepstakes also takes time. If you take the time to engage in this venture, it's good to know that you have at least a fair chance of success.
And low-entry sweepstakes give you that fair chance.
Happy sweeping!