Jolt into the Day with Nikkis Sweepstakes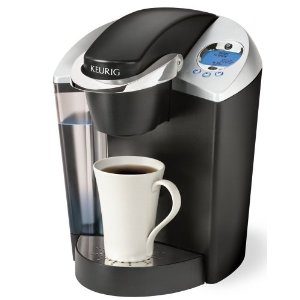 Many people across the world start their day in the same exact way; with a hot steaming cup of coffee. Lots of people I know have it as a daily routine, no questions asked. More than likely, there are a few of you out there reading this blog and thinking "Oh yeah, I absolutely need my coffee!" Well, for all of you hot-beverage lovers, we've got a prize I think you'd enjoy. This Nikkis Sweepstakes is one you'll fall in love with right away.
Something that has become increasingly popular in the past couple of years is the Keurig brewing system. Not only do these machines make lovely cups of joe, but also delicious hot teas, hot chocolates, and hot ciders! This special edition Keurig Brewer could be yours through this Nikkis Sweepstakes. This fun sweep is open to all US residents and  and you only need to enter one time. it's easy to enter and easy to win! Go ahead and feed your  coffee addiction, this prize is too good to pass up. Visit Nikkis Sweepstakes and submit your email address for this great prize before September 30, 2013!
All We Do is Win
WOW! Sweepstakes Advantage members are on a roll this season! Another member, loopkey, won tickets to go to the iheartradio music festival in Las Vegas! This is am amazing win and we are so proud! Congratulations loopkey, we wish you a fun and safe trip. SA member kashteen1 won a $25.00 e-card from Camel! Congratulations, Kashteen2, it is always great to have a little extra cash on hand. Another Sweepstakes Advantage loyal member, bwanas, won a $100 Magnum Gold Gift Card. That is a great win as well!
Sweepstakes Advantage members win prizes every day! We love to hear about all your sweepstakes triumphs. Post about your wins on the winners circle and we will feature your wins here as well! Be sure to enter the Nikkis Sweepstakes before it's too late. Who knows? You could win!