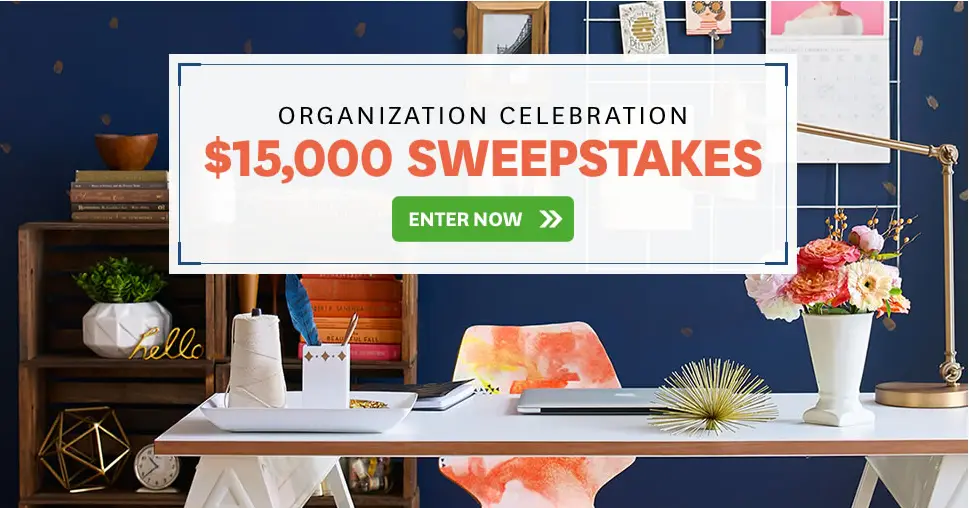 BHG Sweepstakes understand homeowners wants and needs. And homeowners know how much fun it can be to redo a home. They also know how expensive it can be. There are so many unexpected items and incidents that pop up and the cost adds up. But what if you could do your makeover without any worries? Luckily, homeowners who also enjoy entering sweepstakes will love the BHG Sweepstakes that's running for February 2017. Better Homes and Gardens (BHG) is all about making a house a home. The BHG Sweepstakes will certainly help you make your house your true home sweet home.
What would you do with a huge prize of $15,000? Would you add an extra room? Would you redo your kitchen or bathroom? How about building a deck or patio to enhance your backyard? Or would you finally put in that indoor pool you've always dreamed of? Whatever your answer, Better Homes and Garden Sweepstakes can help!
BHG Sweepstakes You Can Enter Right Now
There are several awesome BHG sweepstakes going on right now you can take advantage of. For example, you can enter their 15k sweeps to win $15,000 towards your next home improvement project. The winner will be selected on or about April 19, 2017, and receive a check for $15,000. $15,000! It's exciting just to think about it all the possibilities! It sure does make up for Tax Day that's just around the corner, doesn't it?
Please note, you can only use one email address to enter, but you may enter as many times as you wish during the sweepstakes period. So sign up and start entering right now! We're rooting for you!
For more details: BHG.com 15ksweeps BHG $15000 Sweepstakes
Free Groceries from the Better Homes and Garden BHG Sweepstakes
Another fun BHG Sweepstakes happening right now is the $2500 Grocery Sweepstakes. On or about April 7, a lucky winner will be selected. The chosen winner will receive a check for $2500 to be used towards groceries. Depending on how many hungry mouths you have to feed, this could last months. Or if you want, you can try those fancy and expensive grocery items you have always wanted to try! If you love to cook, you could throw a big party for your family and friends and use the funds to provide the food and beverages – you'll be super popular! You will all eat like kings! You can boost your odds of winning by entering once a day through the entire sweepstakes period. Good luck!
For more details: BHG $2500 Grocery Sweepstakes
BHG Daily Freebies Sweepstakes
If you like free stuff, the new BHG Daily Freebies Sweepstakes is for you! When you enter the daily sweeps, you have a chance to win every day. How cool it is to know you can win something every day from Better Homes and Gardens! The prizes are either a free gift or a gift certificate of equal value. The prizes are revealed daily, so check back often to find something you love and enter every day for a chance to win a fun surprise. Daily prizes are a sweeps lover's entertainment, so we're sure you'll enjoy this contest. Sweepstakes Advantage sure does!
Keep Checking Back for More BHG Sweepstakes
We're always finding and listing more BHG sweepstakes. You can click the link in the first paragraph to see all of our Better Homes and Gardens BHG Sweepstakes. As always, be sure to check back with us at Sweepstakes Advantage regularly to stay on top of all your chances to win. You are always close to a win! If you win one of these sweepstakes or any others we list, we'd love to hear about your winnings and what you're doing with your prize over at the Winner's Circle. We all love to hear about a great sweep! And if it's one of our members, well that just makes us ecstatic!
Don't forget Sweepstakes Advantage Exclusive Giveaways!
As an added bonus, one of our personal sweepstakes that is happening right now will be sure to make your day!
Enter to Win a LG G5 Cell Phone from Sweepstakes Advantage! You can enter daily for more extra chances to Win. Restrictions are 18+ US Only. This giveaway will Expire on March 24, 2017 so be sure to get over now and enter! Use the app below to enter.
Sweepstakes Advantage LG G5 Cell Phone Giveaway