Sweepstakes Entry Forms Can Be Difficult Sometimes
Here are some things to check when you fill out a sweepstakes entry form and it doesn't work:
* Are you within the right entry period?
Sometimes sweepstakes entry forms can block your entry from being submitted. When they do this it's not always clear that the promotion has ended. Often websites will not somewhere that the promotion has ended when you att
empt to enter. Many of the new sweepstakes apps or widgets that are embedded into web pages will make it clear that the promotion has ended.
*Do you meet the age requirements?
On some sweepstakes forms, they will give you a choice to enter your birthdate. They are doing this to check your age eligibility. On other forms they simply have you check a box that you are over 18 years of age. In either case, this is a control built into the sweepstakes entry form to prescreen eligibility. This is for the safety of everyone. Some sweepstakes promotions sell Tabacco or Alcohol and for obvious reasons, this age restriction info must be known by the sponsor.
Sweepstakes Advantage Dell Premium Laptop Giveaway

You Could be Restricted by Your Local State
*Did your location restrict you from entering?
The Rules will help answer the basic questions posed above.  It's a trickier business if everything looks good and your entry still won't go through. Some sweepstakes only allow people to enter from certain geographic regions or the promotion will only be open to only certain states. You may even notice that your specific state is missing from the sweepstakes form drop-down menu. If this happens it's likely that you state isn't allowed. However, if the rules do not say your state being exempted you may want to contact the sponsor to have them correct or fix the form to include your state.
It's actually a smart idea to look for state-specific sweepstakes because these will have better odds to win. Few registrants typically mean better odds for winning a prize. You can upgrade your subscription to our Sweepstakes Plus where we list Local Sweepstakes. In this case, you can view sweepstakes that only want registrants from your particular state. Check the blog roll aside this article for access to Plus.
*Did you fill in every field?
You can tab through to check.  What about the Captcha code?  Sometimes a "B" can look an awful lot like an "8". If the entry form has a line that says something like "I acknowledge that I have read the Rules", the page will not advance until you check off this box. The entry form may have a box that says something like "By selecting this answer, I am submitting my entry in the sweepstakes and agree to subscribe to the site newsletter".  This box may be mandatory.  You will have to decide if you want to accept the newsletter and enter the sweepstakes or take a pass.
It May Not Be the Sweepstakes Form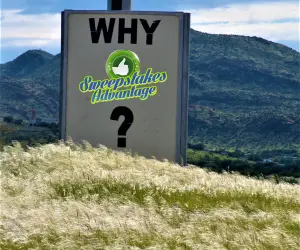 After reviewing your answers, you have verified that all information is correctly provided and the entry form still won't go forward.  Now what?  The problem may be technical.  Some
common tech problems:
*Your browser may not be up to date.  If you are using an outdated web browser, you may need to upgrade your browser.  Many entry forms are not compatible with outdated web browsers and will not run correctly.  It's very easy to update most web browsers. In most web browsers look for "About" in the toolbar menu and there is usually an update option. I strongly urge every sweeper to do this regularly as it not only keeps you current it helps protect the security of your web browser and computer.
Proactively make sure you are updated because the web browser needs your permission to update and will not automatically do it for you in most cases. We receive lots of feedback from members who are having trouble with sweepstakes entry forms. Updating the web browser solves the problem almost 100% of the time.
Issues Beyond the Sweepstakes Entry Form
If you keep circling around, try deleting your temp files and cookies.  This will clear out a lot of junk records from your computer and may allow the entry form to move forward. Some sweepstakes forms get updated during the promotion and if you are caching the old form it may cause your entry to not be accepted. Clearing up your temp files will also help the performance of your computer while online as well.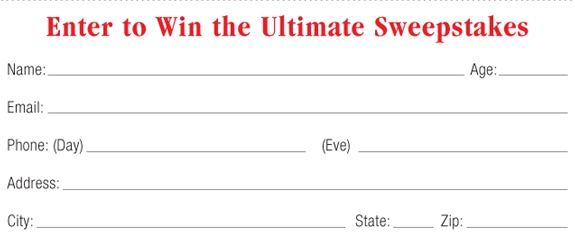 If you are still having a problem it may be unrelated to anything mentioned. Some very restrict antivirus program could be blocking your entries or you could be infected with a computer virus. In this case, you should consult a technical support professional. We hope this article helps you understanding sweepstakes entry forms and common problems.