How to Find Sweepstakes?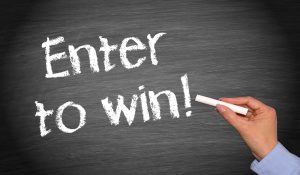 How to find sweepstakes with the advent of the Internet era is vast. Businesses all over the globe have to promote their brands. They strive to fascinatingly boost their image to impress potential customers. One of the most effective techniques of that kind is holding sweepstakes, giveaways, and contests. Even the most unlucky can participate and win. Although any prize-giving activity is proven to be effective in getting people involved, many enthusiasts face a problem.
How to find good sweepstakes. If you want to get movie tickets, cash prizes, or gift cards, it is worth considering only legitimate giveaways. These should be only offered by reputable companies. Thus, you can be sure your reward will be received. You'll be happy when fortune smiles upon you. Here we are going to describe the most surefire ways of how to find sweepstakes online.
Surfing the Net
Of course, browsing hundreds of web pages on your own may take a good deal of time. This equals lots of effort when choosing the right giveaway. However, it is up to you. Get well-prepared for making an entry from the very first day of a sweepstakes prize giveaway. We recommend you to take advantage of the whole range of search engine settings like time and country settings. Thus, you won't lose the chance to try your luck in an instant win game.
You might try Google's Advanced Search. Here you can specify when a page or sweepstakes was last updated. This may show you only the latest sweepstakes.
When surfing the Internet, you can be picky about your prize search. To make things clear, you are not limited only to a particular prize like a lipstick. Following this way means you are provided with a myriad of options to choose from. If you are eager to win a brand new refrigerator or an unforgettable weekend trip, just specify it in your search request.
Following the News of Sponsors and Companies You Trust
Have you wondered how to find sweepstakes to enter for the best prizes ever? It may be useful to keep track of all updates carried out by companies you know. When developing their brands, some businesses place a sharper focus on various contests and giveaways. It is their way of attracting customers and promoting products they offer.
On the one hand, following the news of a company that has managed to make a name for itself is an especially useful tip for experienced sweepstakes hobbyists. On the other hand, this way allows newcomers to get a clear understanding of how sweepstakes work. Sometimes the official rules of giveaways are taken for granted. We recommend reading them carefully before making an entry. Keep in mind that luck favors those who are prepared. Some may say, you make your own luck.
Using Special Tools
Nowadays every sweeps enthusiast is provided with a wide range of online tools.  These help to be constantly aware of how to know when sweepstakes are held or when they first start. Such tools as Sweepstakes Alert by Sweepstakes Plus, Google Alerts and Diigo enable you to avoid the risk of missing long-awaited giveaways and contests. It is all about initial preparation for the new opportunities opened up by sweepstakes. These tools will come in handy because they allow you to bookmark websites and receive notifications. There is no need to monitor online resources around the clock if you take advantage of Plus Sweepstakes Alert, Google Alerts, Diigo, or similar products.
Browsing the Most Popular Social Media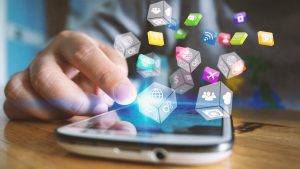 Social networks have become one of the most effective platforms to offer sweepstakes and giveaways. The vast majority of world-known companies tend to promote their products on Facebook. See also Twitter, and Instagram, providing you with an excellent opportunity to get the most out of their promotional campaigns. Start following the brands you are interested in and pay attention to their latest offers the next time you will be scrolling down your news feed.
The use of hashtags on Twitter and Instagram will allow you to do a specific prize search. Try a search for "iPad giveaway" on Twitter for instance.  You will see how many sponsors are mentioning these 2 words in their posts. There is also an advanced search in Facebook that will narrow down a new prize discovery.
When it comes to social media, you are expected to try your hand at some contest rather than a sweepstake. While being available for a broader audience, this activity allows you to reveal your hidden talents and get a prize you want. Moreover, participating in contests on Facebook or Twitter means you have the chance to share the experience with your friends or be informed of how to find good sweepstakes on other media. If you can do something well, it's time to put social networks to proper use.
Counting on Professional Directories
Using the services of a company that specializes in bringing all current and future giveaways together is key. This may be the most important and helpful tip on how to find sweepstakes. This way is proven to be highly beneficial for everyone who is determined to win. The primary advantage of professional directories is that you are offered an ever-expanding sweepstakes catalog. Using a directory will help you uncover some of the most lucrative contests around the web.
Sweepstakes Advantage Directory helps you make a careful selection. You choose the sweepstake or contest you want while providing you with all information and rules you need to participate. Besides, directories develop their own instruments like search and reminders which can be used for free.
Now you are provided with the useful information on how to find sweepstakes to enter today or in the near future.
You can Find Sweepstakes. How do you Win Them?
You've read all about how to find sweepstakes. By now, you have come to realize that Sweepstakes Advantage is an excellent starting place for this. We not only help you get organized and supply you with thousands of free sweeps but we can give you some sweepstakes skills. You may think that it's as easy as point, click and fill the form. There is actually some skills involved to help you put the odds in your favor. Check out this other article we wrote that will show you how to win sweepstakes.
It's high time to choose a prize category and get on a roll! Thanks for taking the time to read this article.
The Winner of our iPad Pro Giveaway in March 2018 was Larry B from Florida!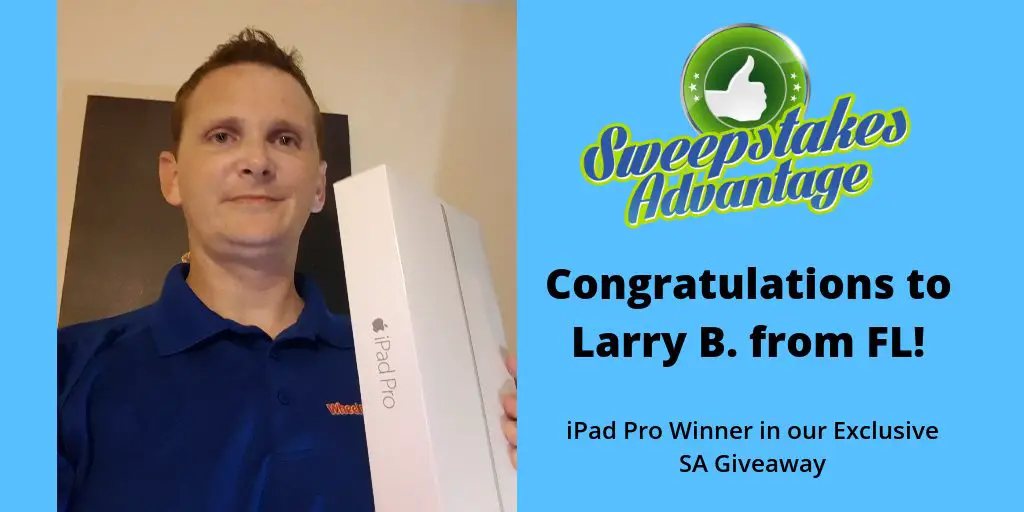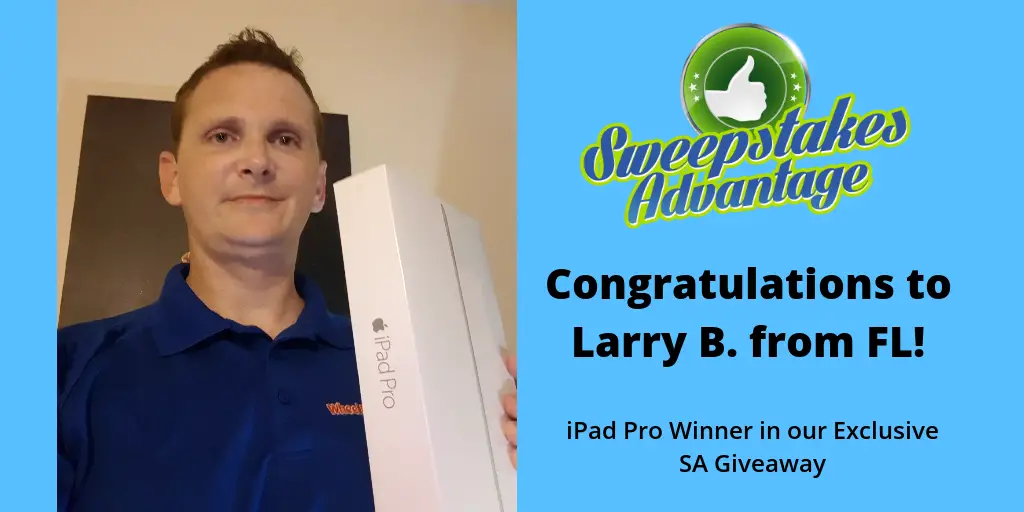 Have a look at another helpful sweepstake blog article, sweepstakes entry form help. Here you can resolve issues you may encounter with sweepstakes forms.
Sweepstakes Advantage iPad Pro Giveaway